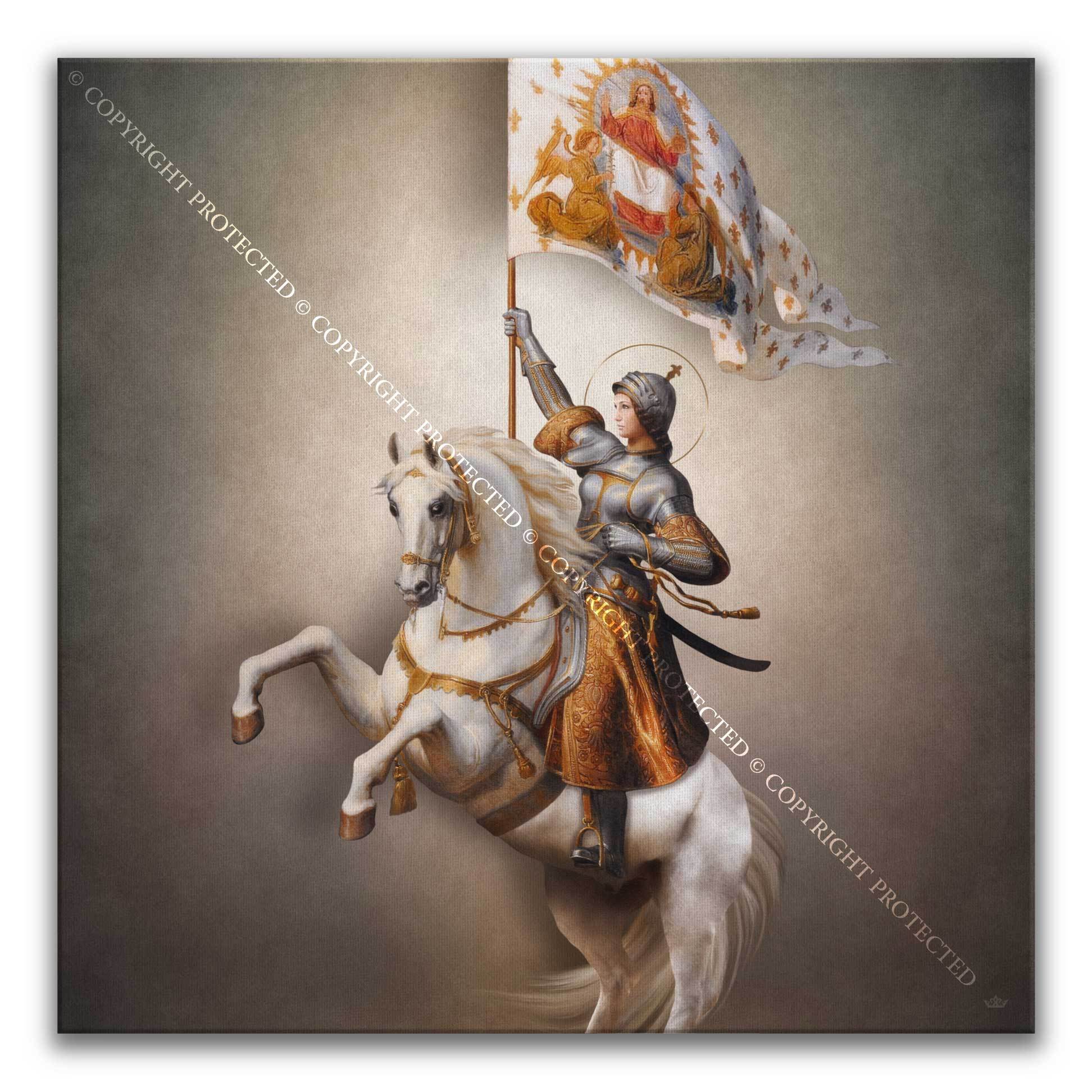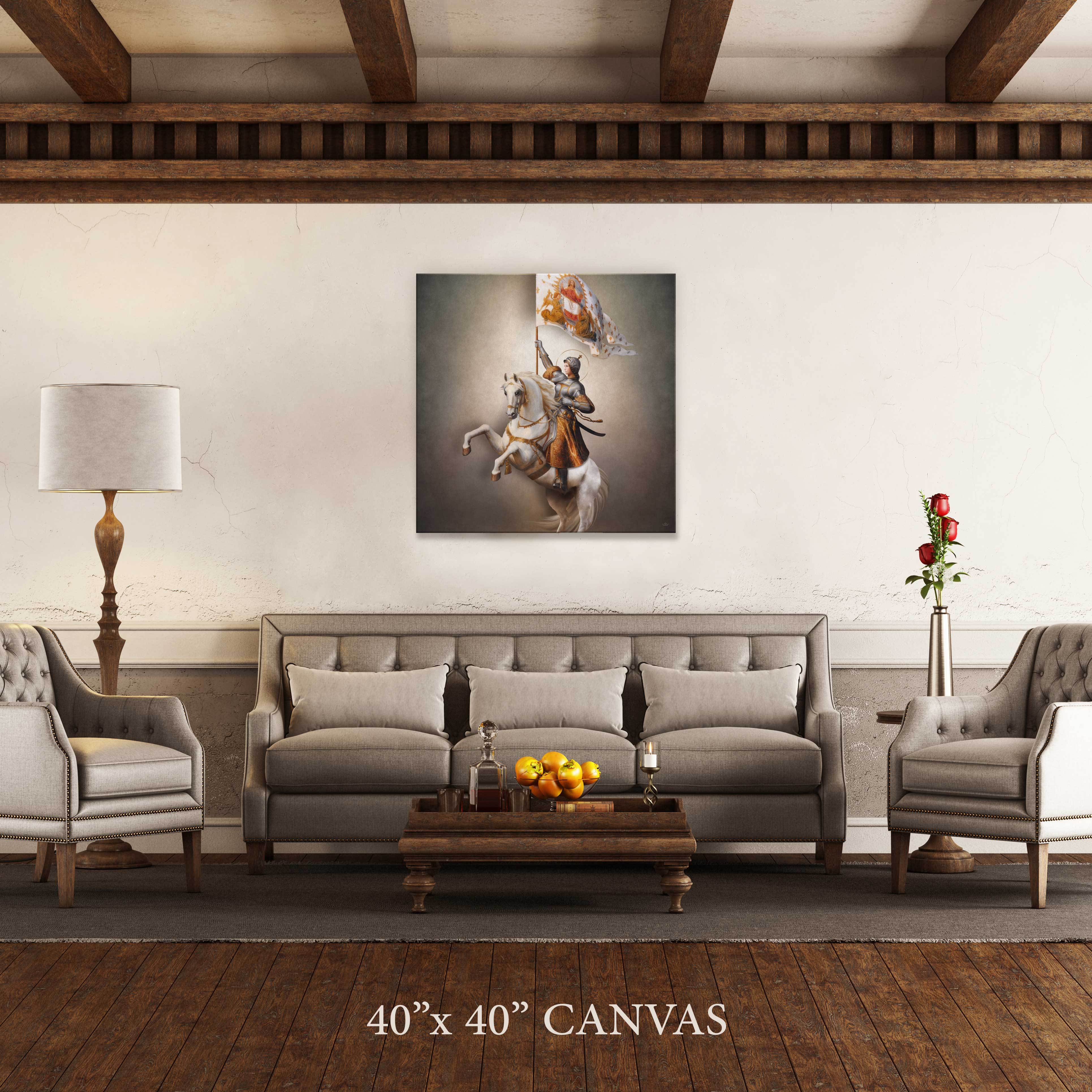 St. Joan of Arc Canvas Print
Sale price

$42.00
Regular price
(/)
---
---
The St. Joan of Arc Canvas Print is a gorgeous piece of art that will beautify any room. Gallery quality canvas print displays vibrant artwork that is made to last. Printed with HP Latex Inks that are fade resistant, water based and solvent free so there are no harsh chemicals in your home. Assembled with a 1.25" gallery thick wood frame and glued wood core stretcher bars. Wrapped and shipped in fitted packaging and ready to hang right out of the packaging. © Copyright Protected Watermark WILL NOT be on the finished print.
■ 1.25" Gallery Frame Wrap
■ Semi-Gloss Print
■ Beveled Wood Stretcher Bars
■ Made in the USA
---
This is a couture item which is custom made-on-demand. Our couture collections feature exclusive, custom designs with our signature crown somewhere within the design. Not sold in stores and you won't find this anywhere else. EXCLUSIVELY AT VENXARA.
SHIPPING + DELIVERY

MADE IN THE USA | These custom made-on-demand Canvas Prints ship world-wide directly from our fine craftsmen in the USA. Destination tracking is available for most countries. A tracking number will be emailed to you once your order has shipped.

Production Time: 5-8 days
Ship Time: 3-9 days

Please Note: During peak shopping seasons, production and ship time may take a little longer than normal. If you are buying this item as a gift, please order as early as possible. We don't want to disappoint you or the gift recipient with a potentially delayed order.

For countries where tracking numbers are not available, this item should arrive by regular post within 2-4 weeks. Orders that have not arrived within 45 days of order processing are eligible for a free reshipment or a refund.
ABOUT THIS SAINT

ST. JOAN OF ARC

1412 — 1431
Feast Day May 30
Patron Saint of France, soldiers, military personnel, prisoners, those ridiculed for their piety, rape victims and martyrs.

Born in 1412, Joan of Arc (French: Jeanne d'Arc) is considered a heroine of France. A rebel and a warrior all for God's honor and glory, Joan is one of the great examples of faith, unwavering commitment and courage.

At a very early age, she was said to have heard the voices of St. Michael the Archangel, St. Catherine of Alexandria and St. Margaret of Antioch. At first the messages were personal and general, but when she was 13-years-old, she received visions from them, each of whom instructed her to support Charles VII and drive the English from French territory.

The uncrowned King Charles VII sent Joan to the siege of Orleans as part of a relief mission. For her safety, she cut her hair and dressed as a male soldier, which later led to charges of cross-dressing. She gained prominence after the English retreated from Orleans and the siege was lifted only nine days later. She suffered many wounds from sieges including being shot with an arrow between her neck and shoulder as well as being shot through the thigh with a bolt from a crossbow.

In 1430, she was captured by the Burgundian faction, and was sold to the English. She was kept in an iron cage, chained by the neck, hands, and feet. Joan continued to wear military armor making it difficult to be raped as there was no protection in a dress. She was put on trial by the pro-English Bishop Pierre Cauchon for a variety of charges including cross-dressing, heresy and witchcraft. After Cauchon declared her guilty, she was sentenced to death.

On the day of her execution, she was allowed to make her final confession and to receive Communion. Her demeanor at the stake was such that it moved even her bitter enemies to tears. She asked for a cross, embraced it, and held it up before her while she called continuously upon the name of Jesus. Her final request to her executioners was to "Hold the cross high that I may see it through the flames." She was tied to a tall pillar and publicly burned alive on May 30, 1431 at the age of 19.

In 1456, an inquisitorial court examined the trial, dismissed the charges against her, pronounced her innocent, and declared her a martyr. She was beatified in 1909 and canonized in 1920.
Choose options