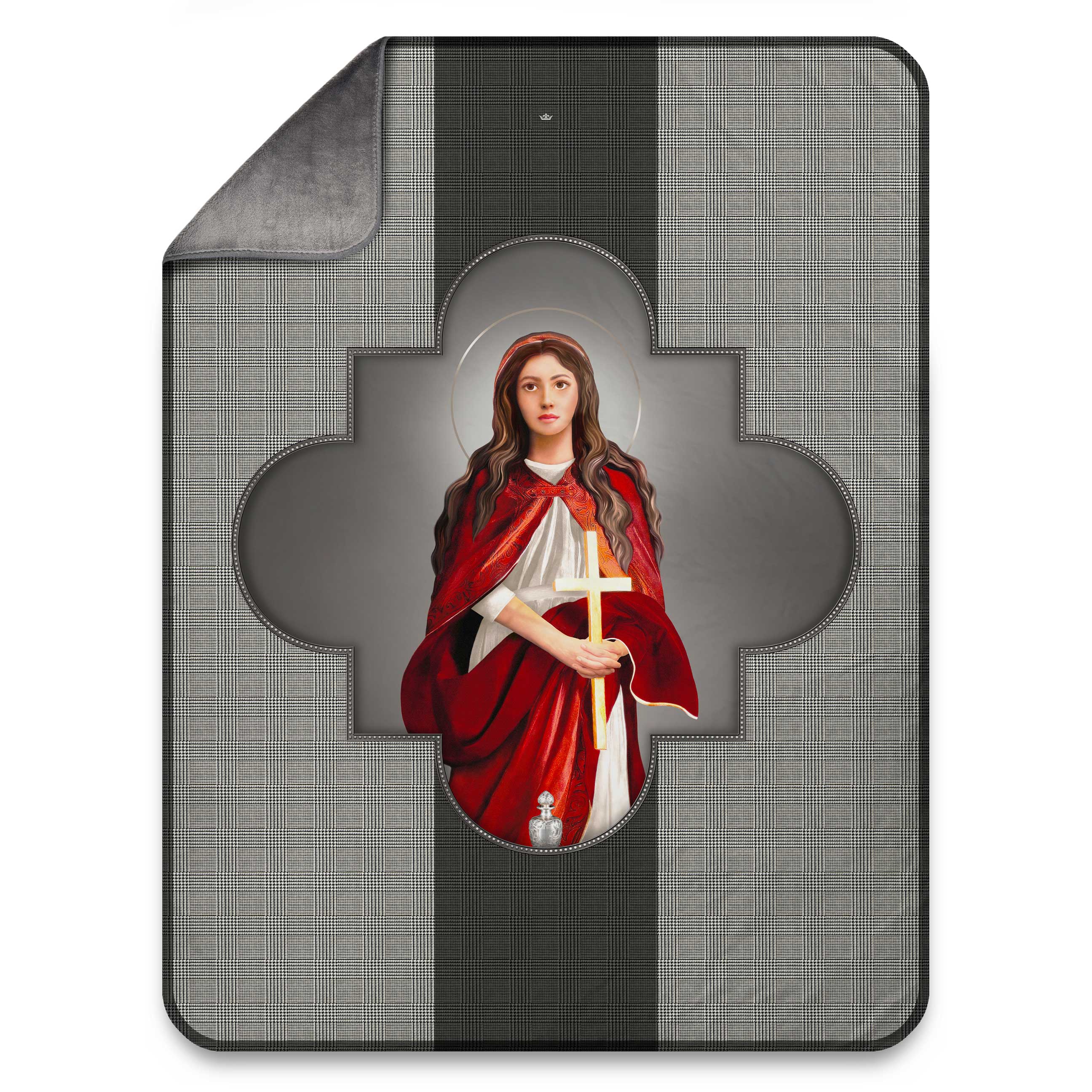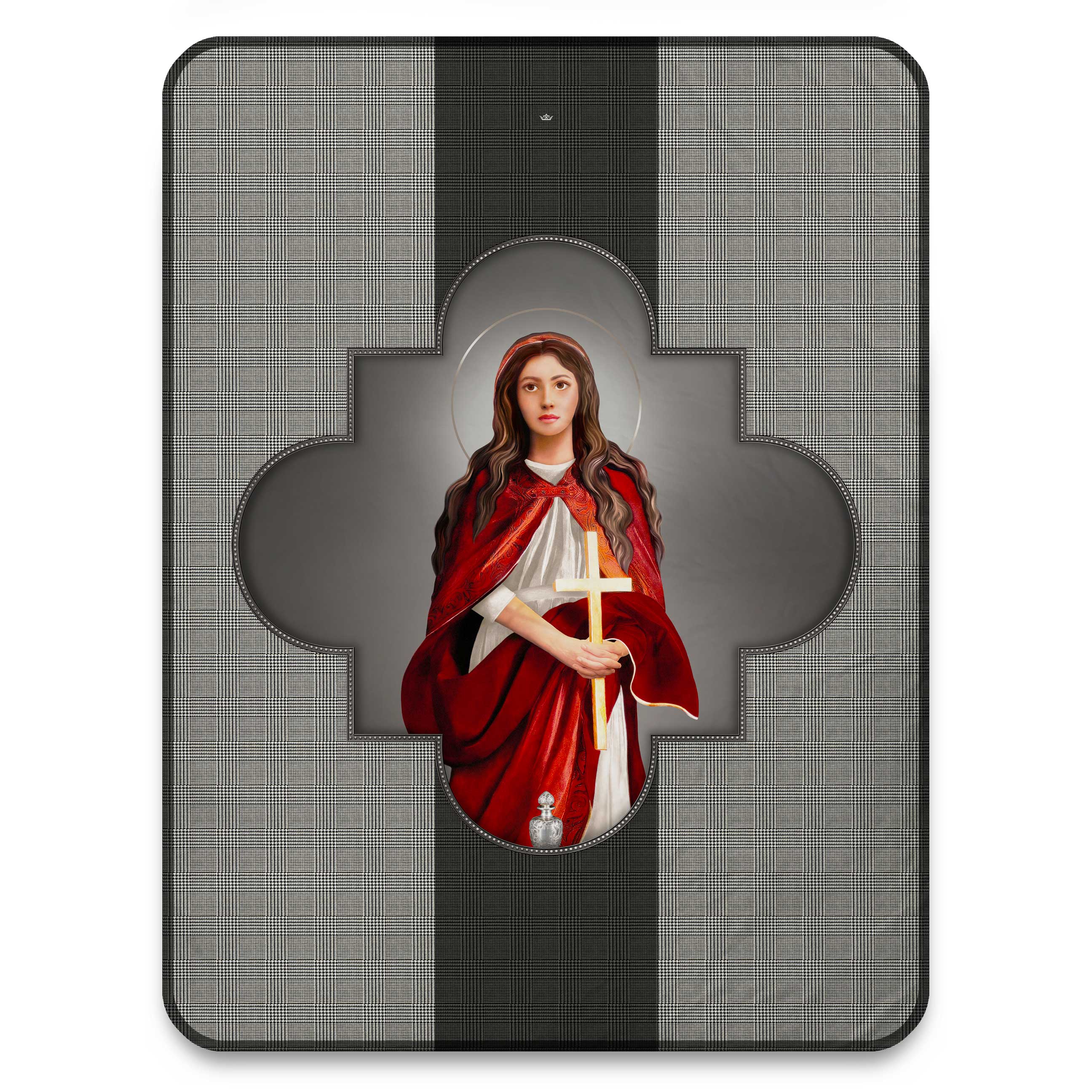 St. Mary Magdalene Plush Fleece Blanket (Houndstooth)
Sale price

$115.00
Regular price
(/)
---
---
The St. Mary Magdalene Plush Fleece Blanket is a premium throw blanket that is incredibly soft on both sides. This 60" x 80" luxury blanket is made of 100% polyester micro-mink flannel fleece. It's not only soft and cozy but it also provides excellent breathability and durability. It will easily become your favorite blanket that will last for years.
■ 60" x 80" (5' x 6.6')
■ Machine Wash Cold
■ Tumble Dry on No or Low Heat
---
This is a couture item which is custom made-on-demand. Our couture collections feature exclusive, custom designs with our signature crown somewhere within the design. Not sold in stores and you won't find this anywhere else. EXCLUSIVELY AT VENXARA.
SHIPPING + DELIVERY

This custom made-on-demand Plush Fleece Blanket ships world-wide directly from our producers in North Carolina, USA. Destination tracking is available for most countries. A tracking number will be emailed to you once your order has shipped.

Production Time: 3-7 days
Ship Time: 3-9 days

Please Note: During peak shopping seasons, production and ship time may take a little longer than normal. If you are buying this item as a gift, please order as early as possible. We don't want to disappoint you or the gift recipient with a potentially delayed order.

For countries where tracking numbers are not available, this item should arrive by regular post within 2-4 weeks. Orders that have not arrived within 45 days of order processing are eligible for a free reshipment or a refund.
ABOUT THIS SAINT

ST. MARY MAGDALENE

Feast Day July 22
Patron Saint of converts, penitent sinners, perfumeries, people ridiculed for their piety, pharmacists and women.

Mary Magdalene is one of the most significant women and greatest saints in Biblical history and a legendary example of God's mercy and grace. She is known as the "Apostle to the Apostles" and is mentioned over a dozen times in the Gospels, more than most of the Apostles. She was present with Christ during His public ministry, death and resurrection.

Mary Magdalene has been regarded as sexually immoral in western Christianity, but this is NOT supported in the scriptures. The Gospels agree that Mary Magdalene was originally a great sinner and Jesus cast 7 demons out of her when He met her. She was certainly a sinner whom Jesus pardoned, giving us an example of how no person is beyond God's saving grace.

During Jesus' ministry, Mary Magdalene followed Him as part of an entourage who served Jesus and His Disciples. She is often depicted in art with a perfume bottle as a reminder of the time when she poured an expensive perfume on Jesus' feet and wiped His feet with her hair. Mary was present in Pilate's hall and saw and heard the religious leaders clamoring for the blood of Him who was so precious to her heart. She listened as Pontius Pilate pronounced His death sentence of crucifixion although he had found no fault in Him. She witnessed and wept as Jesus left the hall to be spat upon and ill-treated by the crowd thirsting for His blood. Then she saw Him led out to Calvary's fatal mount to be nailed to a cross.

Mary Magdalene, along with the Blessed Virgin Mary, was one of the sorrowing group of holy women who stood as near as they could to comfort Jesus by their presence in the closing agonies of the crucifixion. Mary Magdalene listened with a broken heart to His cries and stayed with Him through those dreadful hours until the Roman soldier thrust his spear into Jesus' side and declared Him dead.

Last at the cross, where Jesus died, Mary Magdalene was also the first at the tomb to witness the most important event in world history and the pivotal truth of Christianity, the Resurrection of Christ. What a great honor God bestowed upon the faithful Mary Magdalene in choosing her to be the first witness of the Resurrection. When Mary Magdalene went to Jesus' tomb to anoint his body, she found the stone rolled away and Christ, very much alive, at the place they laid Him. Jesus commissioned her to become the first herald of His Resurrection.

After Christ's ascension into heaven, she remained among the early Christians and after fourteen years, she was put into a boat by the Jews, along with several other saints of the early Church, and set adrift without sails or oars. The boat landed in southern France, where she spent the remaining years of her life living in solitude, in a cave.
Choose options